Dozens of participants will rock the bald once again to benefit St. Baldrick's Foundation. Shavees, barbers, and volunteers will gather at the New Hope-Solebury Upper Elementary School on March 23, 2019, for its 8th annual head-shaving event to raise funds for childhood cancer research. The annual event honors the children that the community lost to cancer, including Ethan Toohey, Robert Nagg, and Dominic Liples.
The St. Baldrick's head-shaving event in New Hope-Solebury Upper Elementary School began in 2011 with only about 30 participants. It has grown tremendously over the years, and is now among the foundation's biggest fundraising events in the United States. One of the community's most active volunteers is Diana Toohey, Ethan's mother, who recruits shavees for her team, Bravery.
Ethan's Story
Ethan was 10 years old in 2006 when he was diagnosed with desmoplastic small round cell tumor, a very rare and aggressive type of cancer. With treatment, his parents were told, he had a year and a half to live. Thanks to research, Ethan lived for 5½ years. Ethan participated in a surgical clinical trials that resulted in removing 95% of his tumors. A clinical trial medication gave Ethan 14 months of treatment without side effects.
During the 5½ years, Ethan went to school, which he LOVED, and attended dances with his friends. He played Nintendo with his brother Patrick, and enjoyed winter activities, such as sledding, with his sister Juliana. The Toohey family enjoyed 5 years of summer vacations at the Jersey Shore, movie and pizza nights, birthdays, and holiday celebrations.
Ethan passed away at the age of 15.
Friends Supporting Friends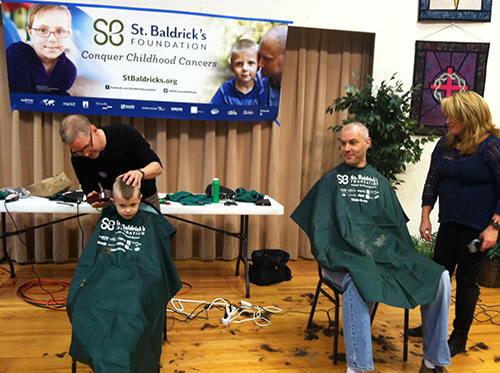 Two of Diana's recruits are family friends Ray and Dominic Gallagher. The father-and-son duo started braving the shave in 2013, and have been participating together ever since. Head-shaving for St. Baldrick's Foundation has become an annual tradition for Ray and Dominic, and they are looking forward to joining their team and the rest of the New Hope-Solebury Upper Elementary School community again this year.
To date, Diana's team has raised nearly $1,000,000 in honor of Ethan and other young friends whose lives were cut short by the disease. To participate as a shavee or to donate, please visit this page.
St. Baldrick's Foundation is a charity committed to supporting research to find cures for childhood cancers and give survivors long and healthy lives. To learn more about the organization and find head-shaving events near you, please visit www.stbaldricks.org.
Share this: